How to Export Thunderbird to Outlook PST (with Free Methods)
Thunderbird by Mozilla and Outlook by Microsoft, are both extremely notable email applications. However, there is just one difference, which brings a lot of differences between them. Unlike Thunderbird, MS Outlook serves more than just emailing. The client is also known as a Personal Information Manager for its capability of letting users create and manage their personal data. This has majorly led a number of Thunderbird followers to choose Outlook 2021/2019/ 2016/ 2013/ 2010/ 2007/ 2003 etc. as their preferred communication platform. This is why user queries like "how to export Thunderbird to Outlook?" have been taking many rounds online.
As a result, this segment will be offering more than one such way to ensure that all your desired emails are successfully migrated into Microsoft Outlook that you choose to work with.
Therefore, the following write-up puts the limelight on the concept of how to convert Thunderbird emails to Outlook PST along with the need to perform data migration. This blog describes a manual as well as an automated method to migrate Thunderbird files.
Topics Covered in this Article:
What Makes One Export Thunderbird to Outlook?
A wide range of users has been observed to transfer emails from Thunderbird to Microsoft Outlook. The main need is the lack of facilities for commercially appropriate emailing and data management options.
What Lacks: Mozilla Thunderbird is a local email platform that simply offers email communication. The rest of the functionalities are undoubtedly acquirable but are dependent upon externally provided add-ins and extensions. This includes features that provide an advantage to businesses like; Contact management, meeting/event scheduler, task listing, journal writing, and more. The options give users the independence to store and manage both personal and professional information.
Outlook offers with precision what Thunderbird misses to serve. Therefore, the need to export Thunderbird to Outlook is encountered by many.
Techniques to Convert Thunderbird Mails to Outlook PST
There are two ways to migrate Thunderbird emails to Outlook .pst files as discussed below. Before executing the migration procedure one must take a complete backup of their data.
Free Manual Method to Export Thunderbird to Outlook
Open Mozilla Thunderbird on your machine.
Now, open the desired folder that is essential to export.
If you need to select a specific email, press and hold "Ctrl" and for choosing mail all messages, press "Ctrl + A".
Right-click on designated emails >> click on the "Save As" option.
Save preferred messages in the desired folder >> click on the 'Select Folder' option to move it.
Now, run Microsoft Outlook on your machine.
Right-click "Outlook" folder >> click on "New Folder" option.
After that, in the "Name" section, enter the desired name for the new folder >> click the "OK" button to make it.
Choose all emails in the mailbox to export Thunderbird to Outlook by using Ctrl + A key.
Select and drag all emails to a middle pane of Outlook after that import all messages into a new folder.
Once emails are successfully exported then, they will be viewed simply.
Limitations of the process
The mentioned procedure is not appropriate to move Thunderbird MBOX data in bulk. By using this process, the user can even miss some data. It is a time-consuming process as well. Moreover, it also requires both email applications on the same machine.
Effortless Automated Method to Convert Thunderbird to PST
To overcome all the limitations faced by the above method, there is a software namely SysTools MBOX Converter Software. The software is designed to minimize the complications and the problems faced by the user while they export Thunderbird to Outlook. This application has been designed with a simple operator interface so that non-technical users do not get stuck in the complication of transferring the data. This application supports all the versions of the Windows operating system whether it is Win 7, Win 8, Win 8.1, and Win 10 (32-bit or 64-bit) & Win 11 (64-bit).
Simple Steps to Export Thunderbird to Outlook PST:
Run the software on your system.
Click on "Add File" and select Thunderbird (MBOX) file.
Or scan the configured Thunderbird profile to preview emails.
Click the "Export" button to convert Thunderbird emails to Outlook.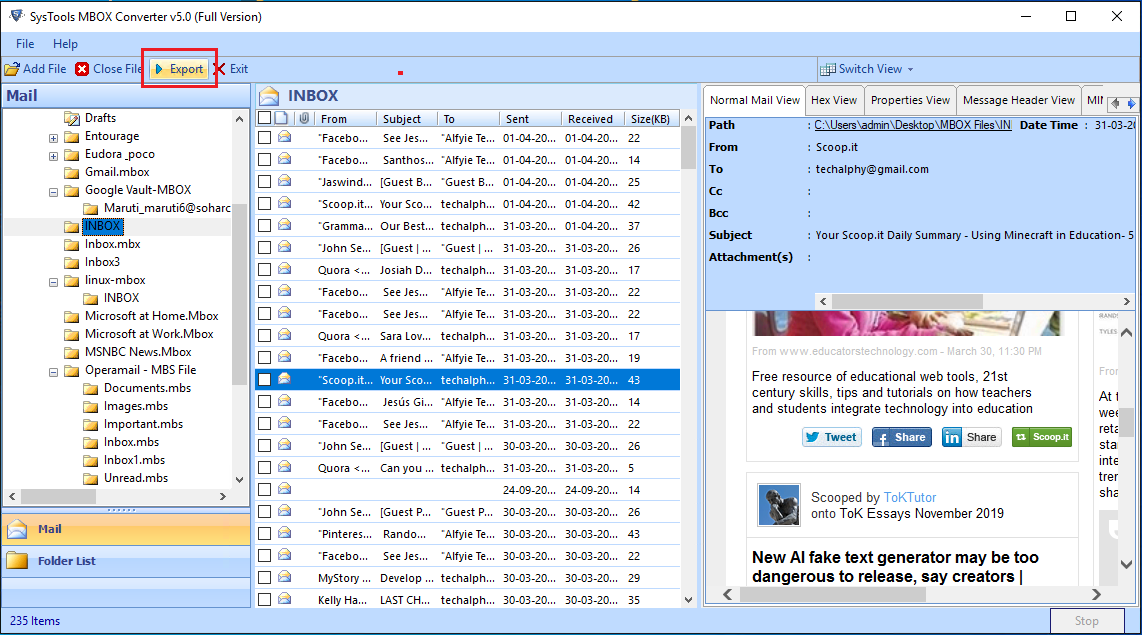 Benefits of this Reliable & Supportive Tool
A dependable tool must show elaborated information regarding the Thunderbird emails being exported into Outlook. This application shows the count of the 'converted Thunderbird file' and 'converted email' with the progress bar. So while moving emails to Outlook versions, the process becomes convenient for the user. It offers various features such as:
Define Conversion: With this tool, a user can select the location folder to save the newly created PST file according to their choice.
Sharp Conversion: This tool is capable of performing selective data conversion. You can select files or folders from the scanned Thunderbird file independently.
Supportive Tool: This application creates PST file supported by Outlook 2021, 2019, 2016, 2013, 2010, 2007 & 2003.
Retentive Conversion: It offers advanced features with which the user can convert Thunderbird mails to Outlook. This won't affect the Metadata, which is not offered by many other third-party solutions.
Simple User Interface: The tool comes with a simple user guide so that users can install the application with any version of the Windows operating system.
Wrapping Up
The web states various processes, which are not practically achievable or have plenty of drawbacks. Microsoft Outlook does not come with a facility to import data from Thunderbird. Moreover, it is also difficult to find a freeware solution that does the needful. Thus, the only way by which it is possible to export Thunderbird to Outlook PST is by applying a commercial solution.
Other Thunderbird Guides: