Can You Merge Two PST Files? – 100% Effective Answer is Here
In this blog, we're going to cover the most commonly searched query, "Can you merge two PST files". The answer to this query is yes, you can merge 2 PST files into one. Here we will guide you step by step and offer two top techniques that you can use to do this task. So let's start.
As we know, the PST file is called the Outlook data file. Users can export email, contacts, calendars, and other data items in PST file format. This file can be easily imported into Outlook at any time.
Now, users have a lot of Outlook data files that are difficult to manage and cause problems in Outlook. Merging data files can be done for many reasons, such as:
Users have several Outlook accounts and only want to access one account with all important data. This time, he/she needs to combine all the PST data files into one.
Users regularly back up their data for security reasons, so they have multiple PSTs from different Outlook versions, including ANSI-type. Now users want to combine ANSI PST with the UNICODE and create a single UNICODE type PST that works with the latest versions of Outlook.
Another important aspect of merging is keeping Outlook performing well and avoiding data corruption issues.
In many cases, the user needs to share PST with someone. However, this task becomes difficult when users have multiple files. The solution to this problem is to combine all of the data files into a single one.
The Solution to the Query: Can You Merge Two PST Files?
Yes, you can merge 2 PST files into one. In most cases, there are two methods of data migration, data conversion, and data backup. Likewise, there are two methods, i.e. Manual and automated that are known as best Outlook PST Merge Software. Here we will discuss both methods step by step and at the end, you can choose any method that suits your needs.
How Can You Manually Merge Two PST Files Into One
Before starting the manual process, let me clarify one thing Outlook does not provide any inbuilt option or features for merging. However, two indirect steps will help you to perform this task. You can follow the steps below to achieve this:
Step 1: Make A New PST File
Open your Outlook application.
Click on New Items.
Select More Items.
Now choose Outlook Data File.
Next, select the location to save the new PST file.
Also, name the file and click OK.
Step 2: Import Old PST to New File
Here, you need to import your old PST to the newly created file to solve the query can you merge two PST files into one.
Again open the Outlook application and go to the File tab.
Click on Open & Export and select Import/Export option.
In the Import/Export window, choose Import from another program or file.
Click Next and select Outlook Data File.
Again click Next and click Browse to select the PST you want to import.
Choose the required option according to needs under Options.
Now, select the folder to import from and also include a subfolder if needed.
Click on the Finish button and the importing process will start immediately.
Note: Outlook only allows to import one PST file at a time. So, in order to merge 2 PST files into one, you need to repeat the import process for each file.
So this is the manual method to merge two Outlook PST files into one. If you are having problems with this method or need to combine multiple PST files and don't have time to repeat the same steps for each PST file. You can then proceed using the alternate method described in the following section.
Automated Solution to Merge Two PST Files or Multiple Files
You can use the automated tool to combine Outlook Data Files into a single one. This software allows you to merge two PST files as well as several files into one. It offers multiple options for combing PSTs according to your needs. The tool has two options: Join or Merge. The join option allows joining PST by creating a new folder for the joined data file. On the other hand, the merge option allows you to combine Outlook folders with similar names into a single one.
Along with this, it offers 3 options to merge two Outlook PST files such as merge in a new PST, existing PST, or Outlook Profile. If you want to combine data files without Outlook, then you can choose the first option to combine them in a new PST file. If you choose another two options, then Outlook installation is required to start the process. Now, let's have a quick at the working of this tool.
Steps to Merge Outlook PST Files Using Tool are:
Step 1. Download and install the software on Windows PC.
Step 2. Add PST files or Folder.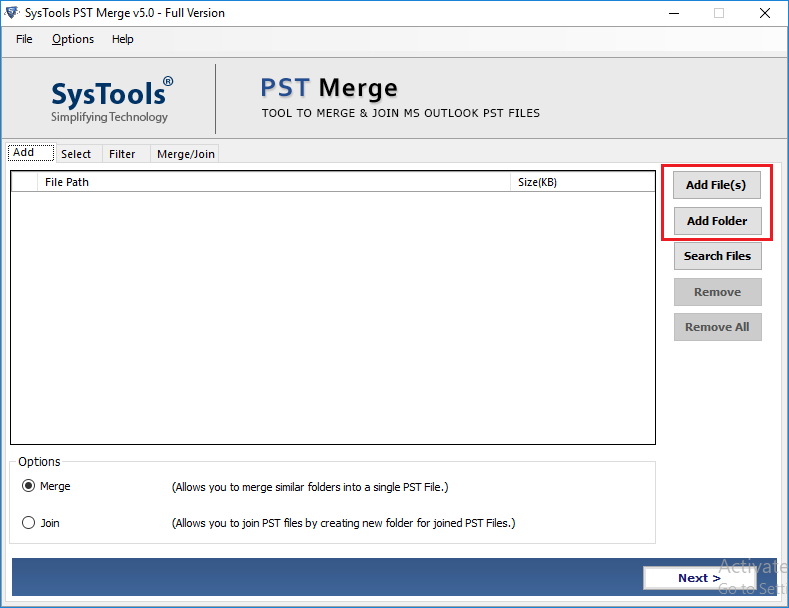 Step 3. Select Merge or Join option and click Next.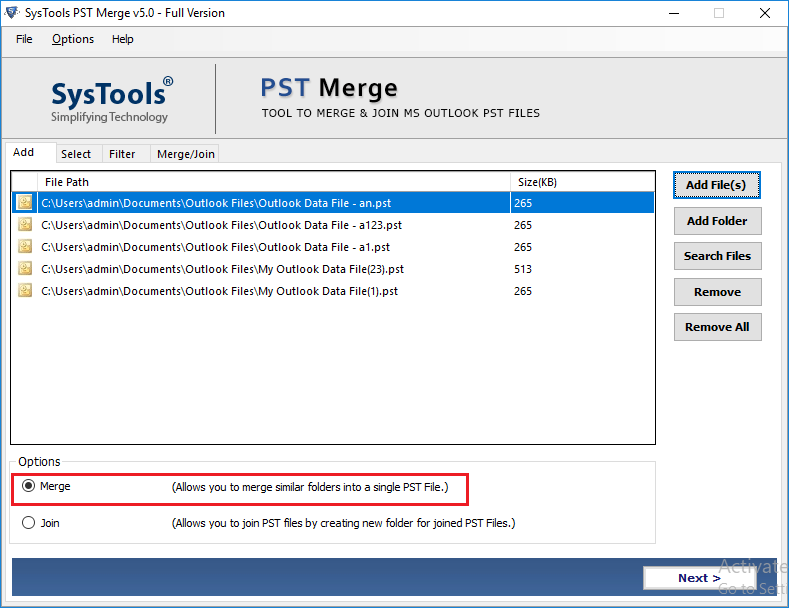 Step 4. Select the folder and then choose to merge files in a New PST, Existing, or Outlook Profile.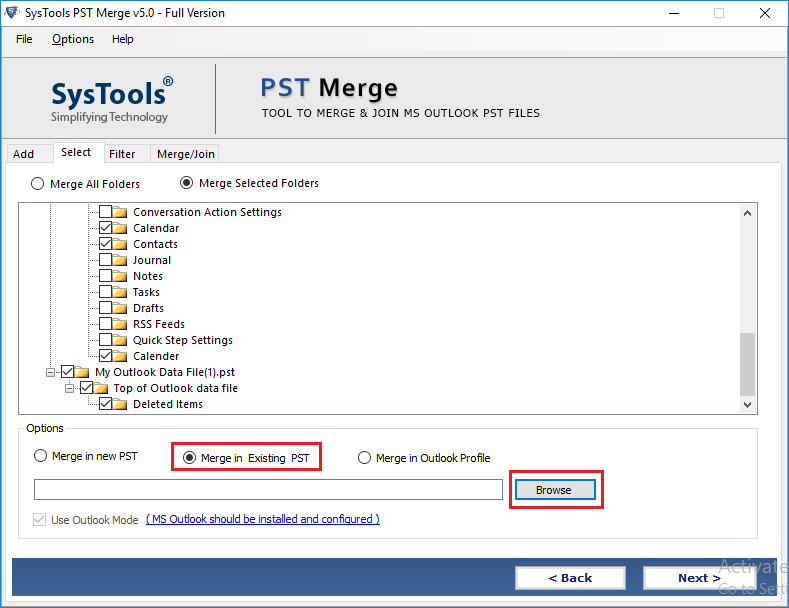 Step 5. Choose required items and select advanced options as needed.
Step 6. Click Next to start the merging process without any limitations.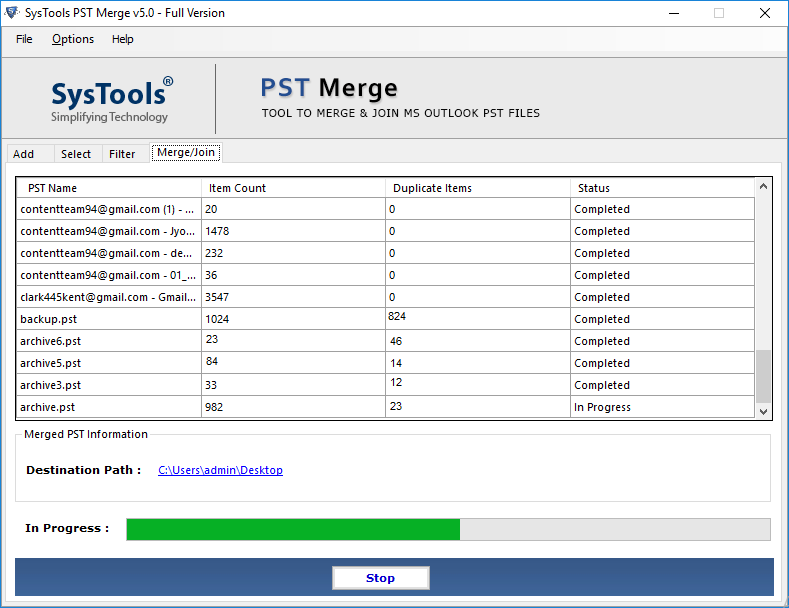 Final Words
Here we discussed two methods to solve the query – can you merge two PST files? Using the manual method, you need to perform two different steps because there is no official option in Outlook for this task. The manual method is quite lengthy and has chances of data loss. Therefore, it is advisable to choose automated software that enables you to merge 2 PST files as well as multiple files without duplicates.
Read More: