How to Migrate Thunderbird Email To Office 365 Step by Step
With Microsoft offering cloud services on a monthly subscription basis, many organizations have decided to move to Office 365. It provides safer communication and better document collaboration in real-time. Many administrators look for solutions to migrate Thunderbird email to Office 365. It is a great platform that provides Exchange online server benefits and emails that can be accessed through a browser. This post has been designed to cater to business and home users alike. Read the following post to find out more on this topic.
Therefore, before proceeding further on different solutions to import MBOX files of Thunderbird to Office 365 account, let us shortly discuss the major reasons for this migration process.
Reasons to Import Emails from Thunderbird to Office 365
Following are some of the causes for moving from Mozilla Thunderbird to Microsoft cloud services with O365:
Provides added features of data share, storage, communication, and collaboration.
Migrate or move Thunderbird Mail to Office 365 to use Microsoft cloud services on monthly rental.
Added security and data storage benefits with O365 cloud servers.
Unique subscription packages for each organization based on size and requirement.
Read emails through a browser on any mobile or tablet device.
Get unlimited Office applications like Word, Excel, Access, Skype, Exchange server etc.
Methods to Migrate Thunderbird Email To Office 365
Following are some of the reasons for transferring mailbox information to the Microsoft cloud servers with Office 365:
Solution 1: Import EML Files to Office 365
Step 1: Save Thunderbird Email to Windows PC
First, create a new folder in Desktop.
Next, launch the Thunderbird application on the system.
Following that, open the message folder where the emails that need to be moved from Thunderbird to MS Outlook are saved.
Then, select all the messages using the Ctrl+A key.
After that, Right-click on the messages and select Save As option.
Then, Browse to the desktop folder land save the emails there.
Step 2: Import EML to Office 365
First, launch the Outlook email application.
Then, go to the folder in Outlook where the Thunderbird messages will be saved.
Or, select Folder tab and select the New Folder option.
In the Create New folder dialogue box, set a name for the new folder.
After that, click on the OK button to migrate Thunderbird email to Office 365.
At this point, this folder will be shown on the left panel of the email application.
Then, click on the Folder to open its content on the centre panel.
Finally, drag all the messages from Desktop folder to this folder in Outlook.
Solution 2: Forward As Attachments
First, open the Mozilla Thunderbird on a Windows PC.
Then, select the messages that need to be imported from Thunderbird to Office 365 account.
After that, right-click on them and select Forward as Attachment.
This will open a new email window in which emails with be added as EML attachments.
At this point, type in an email ID to migrate Thunderbird to Microsoft 365.
Then, click on the Send button.
Finally, view the Thunderbird emails on Office 365 Mail App.
Verify the transfer process by logging into the O365 and opening each email one at a time through a browser in EML format.
Limitations
Limited to Some Emails: The process to transfer Thunderbird emails to Exchange Online is not meant to move complete email folder containing over 1000 emails. It can only export some important conversations.
Long Process: It may take a lot of time in moving each email one at a time to desktop and then to Office 365 Outlook.
Time-Consuming: Forwarding hundreds of Thunderbird messages to Office 365 with large attachment files may take a lot of time.
Data Integrity Compromised: There are changes in email formatting or SMTP header for some emails during the process.
Solution 3: Use an Automated Solution
Often the manual solution to migrate Thunderbird email to Office 365 might not be a preferred method used by organizations. Many companies look for a professional solution to migrate multiple mailboxes in one go. They look for workarounds in third-party software that can easily help them import Thunderbird messages to Office 365.
One such reliable and efficient tool to import MBOX to Office 365. It is best suited for big companies planning on moving their IT infrastructure to the O365 cloud. It can transfer complete email folders without data loss or affect data integrity in any way.
Add the Thunderbird MBOX file into the software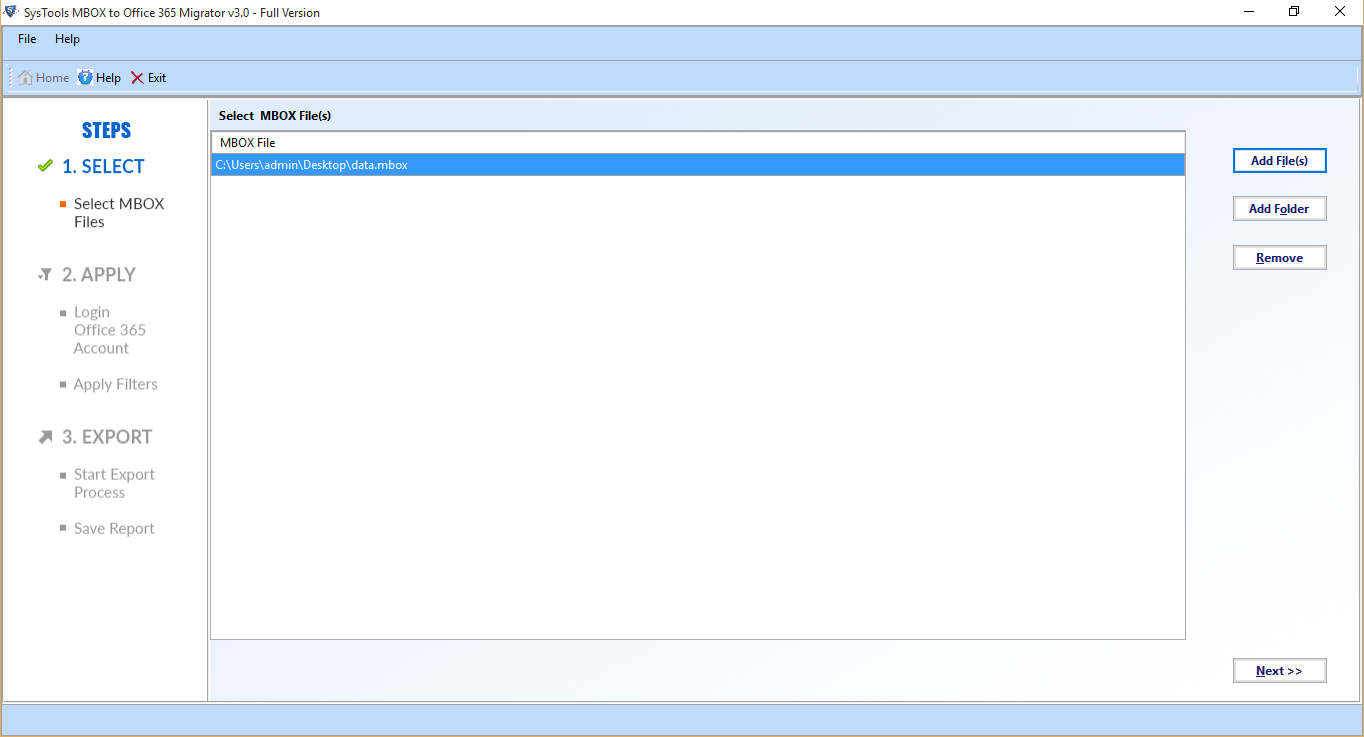 Choose to maintain Folder hierarchy or not.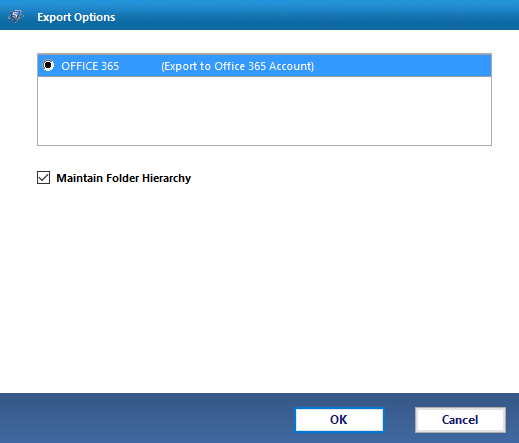 Use impersonation (if you have admin id) or enter normal user credentials if not using impersonation.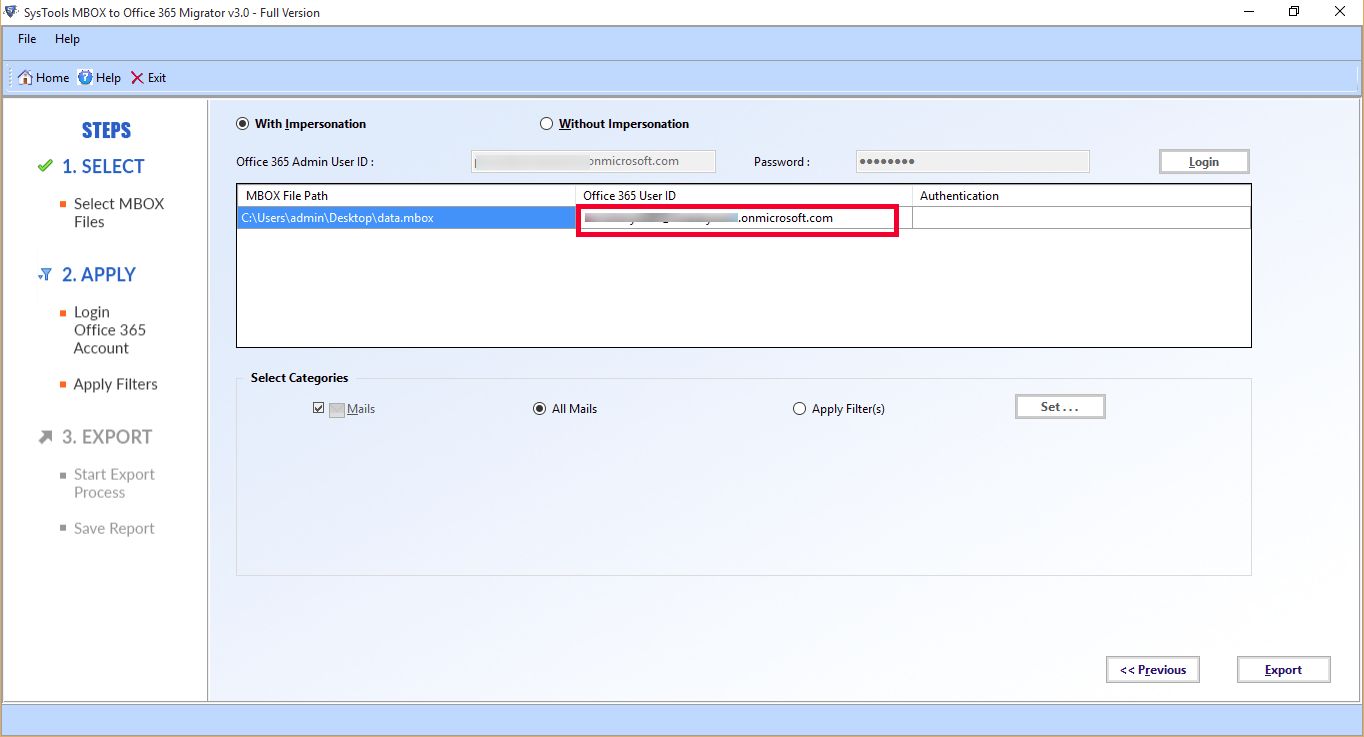 Apply filters and click Export to start the migration process.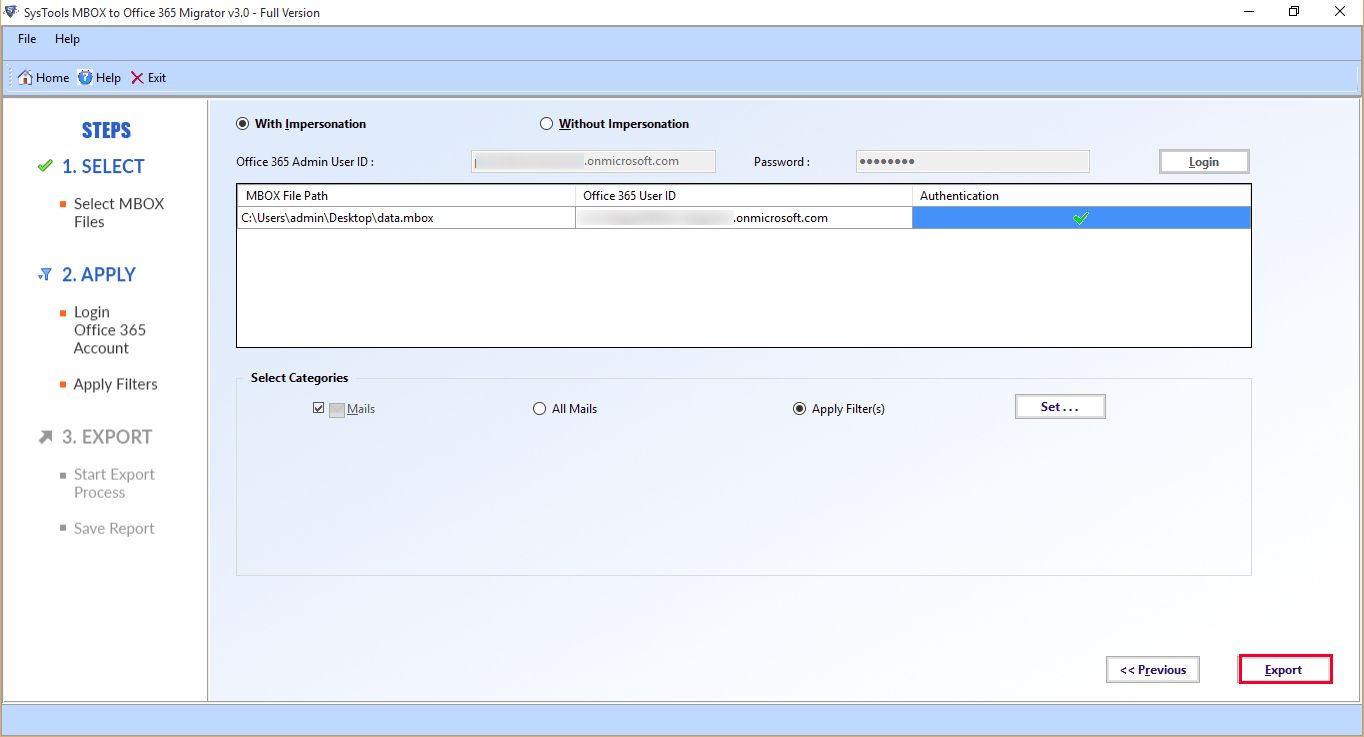 The Conclusion
Microsoft cloud technology is much sought after by many big and small enterprises. It provides all the Office suite applications including Exchange online server and Outlook 365 Mail App at a low cost. This enables businesses to import or migrate Thunderbird email to office 365. This post describes a long and tedious manual way that can days to migrate multiple mailboxes. It also discusses an apt automated solution to make the entire task much easier for administrators.
Related Topics:

How to Export Thunderbird to PDF Documents?