Outlook for Mac Does Not Open After Trying Again and Again!
Summary: This blog post explains how to fix Outlook for Mac does not open issue so that users don't have to face the issue again. Moreover, along with the manual method, we also offer one of the best third party solutions. For more information, please read below and get step by step working to resolve Outlook for mac not opening.
If Microsoft Outlook won't start, don't despair. Recovering and using your email client may be easier than you think. The correct solution depends on your current situation and the version of Microsoft Outlook you are using. The following article shows how to fix issue why Outlook for mac does not opening. 
Basic Solution: Microsoft AutoUpdate
The primary solution before trying any other solution is to try AutoUpdate feature. You can implement the following steps:
Open Microsoft Office 365 application.
Click on Help menu.
Then, hit the Check for Updates option.
Possible Causes Why Outlook for Mac Does Not Open
Why is Outlook for mac not opening, this problem occurs when the main file system is case-sensitive. In this case, the file is called OsfCore.framework. However, Mac Outlook 2016 is searching a file called osfcore.framework, but unable find this file in the application package. 
Solution of this Issue
Now, to rename the file to osfcore.framework, you need to implement the following steps:
Open the Finder window and then open the Application folder.
Right-click on Microsoft Outlook and then select Show Package Contents option.
Open frameworks folder and search for OsfCore.framework file.
Select the mentioned file, press the Return key, and rename the file to osfcore.framework.
Outlook for Mac Does Not Open? Try This Automated Tool
If you experience problems with Microsoft Outlook 2016 on your Mac system and Outlook 2016 Mac does not open, your profile may also be damaged. In such a scenario, many users cannot open Outlook 2016 for Mac and cannot access the data in their mailbox. Therefore, it is recommended to use Outlook Mac Database Recovery Tool on the system to get rid of the corruption.
This application is fully functional for removing serious corruption levels and exporting data in a healthy state. Even beginners can run this software on their system without facing any issues.
Working Steps of the Tool
If your Outlook for Mac does not open after trying the above fix, then there are chances that the Outlook database is corrupted. You can execute the following steps to get rid of corruption:
Install this software on your Mac system and choose the Outlook version that you are running.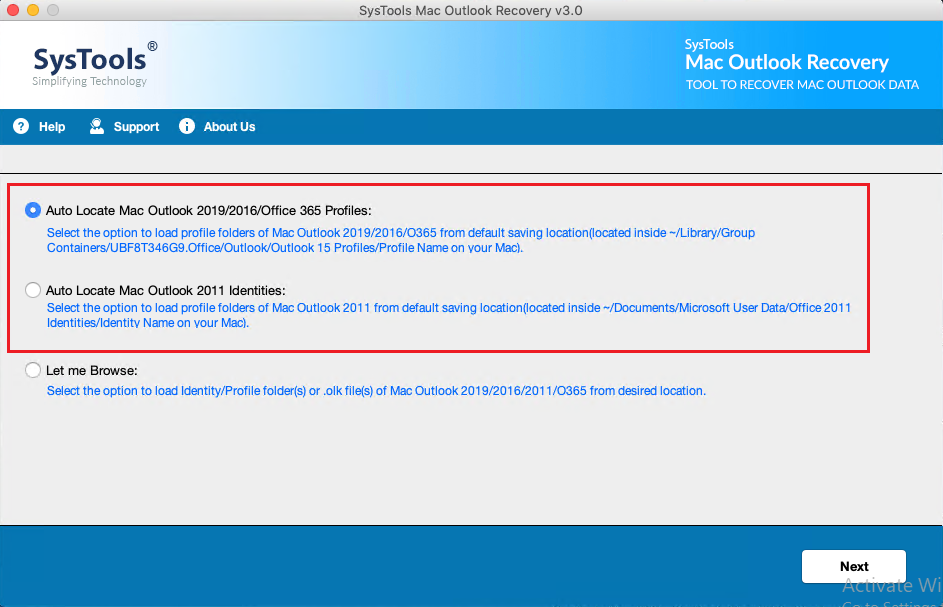 The tool will run a scan on the database and then provides 10 export options to save your data. You can apply additional settings and choose the destination path and then click on the Export button.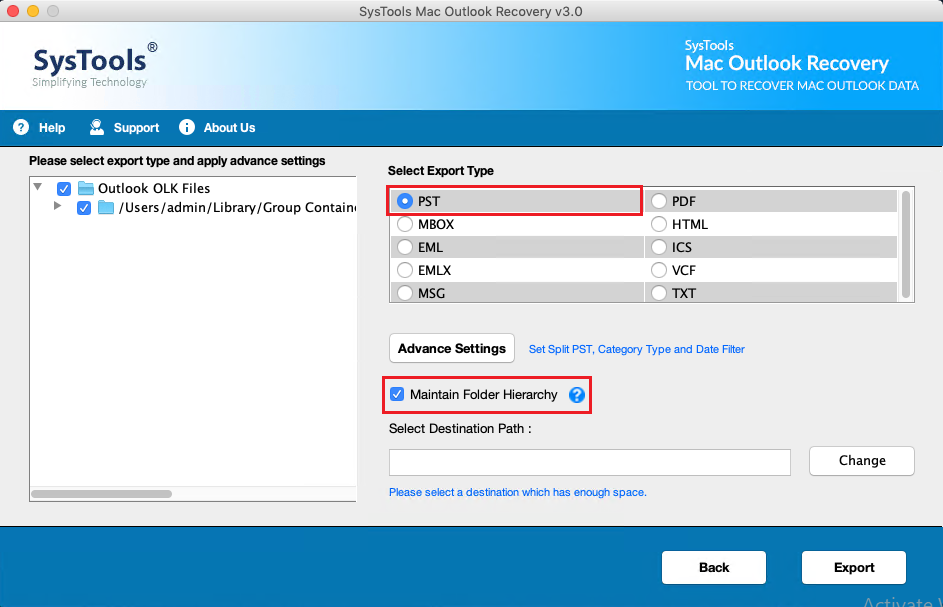 Now, the software will show the real time progress status of the task.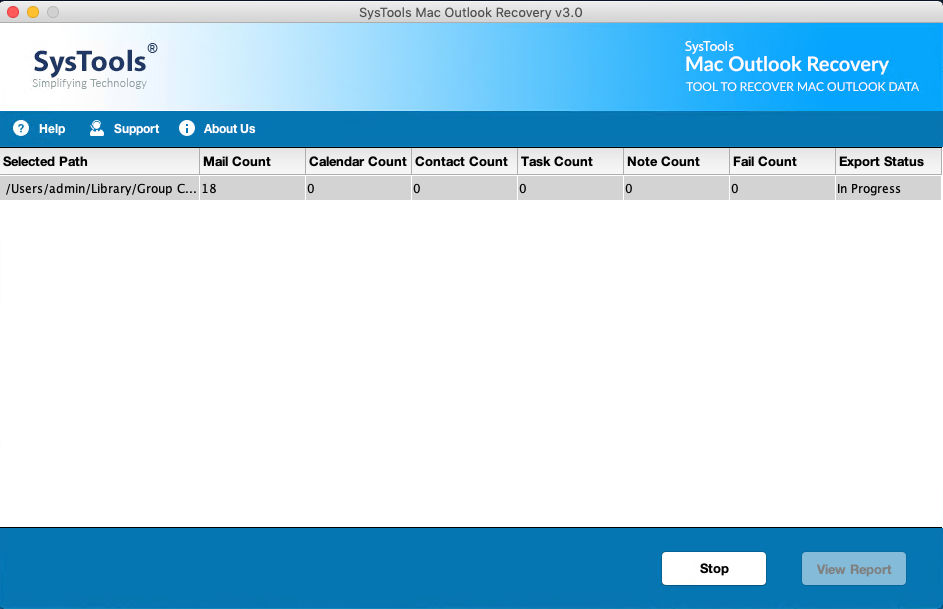 After the completion of process, the tool will show a completion message.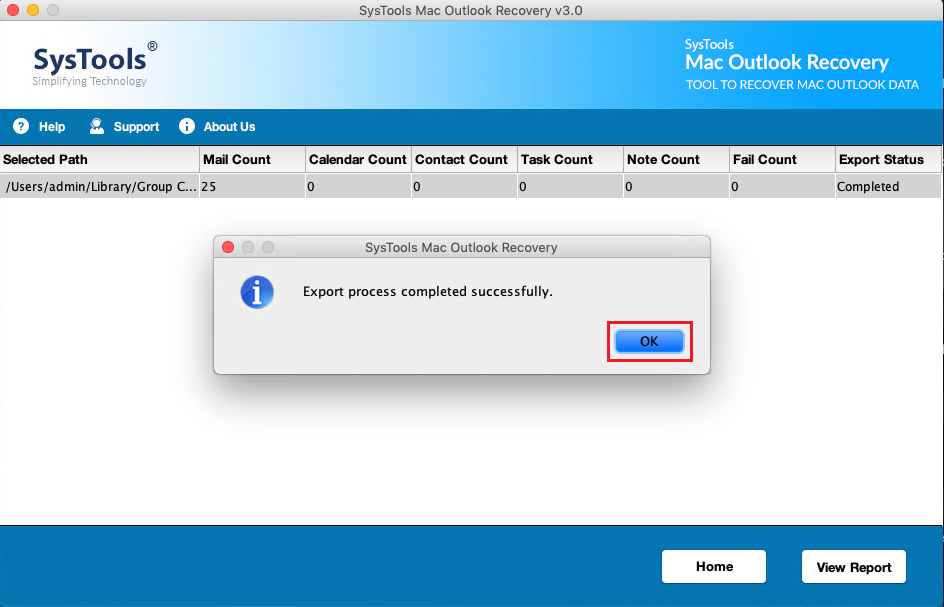 Also Read: How to transfer Mac Outlook to Windows Outlook Successfully
Why You Should Go for Automated Solution?
Third-party applications are not only simple, fast, efficient, but also fully automated. Hence, no human intervention is required. There is little chance of compromise. There are inevitably thousands of solutions on the market, but the process of choosing them is a little complex.
The primary reason is that users cannot rely upon all the tools. Therefore, we select one of the best solutions from various product series based on various analyses of knowledgeable and experienced tech experts to make your job comfortable and stable.
User Reviews

Hi everyone! Few days ago my Microsoft Outlook for mac does not open. After some research, I found there is rename osfcore.framework error. After visiting some blogs, I got manual procedure to open Outlook for mac, and my Outlook open in mac. But my Outlook profile get corrupted, I tried each and every possible way to repair my outlook profile but nothing will happen. Then, I find this third party recovery tool for Outlook database recovery, this software provides instant and hassle free solution, there is no need of technical knowledge or skills very easy to use.
Conclusion
When it comes to multiple programs, crashes and problems are inevitable. The same is true for Mac Office. Users often experience that their Microsoft Outlook for Mac does not open after attempting many times. So, if you face a similar situation, the above situation is a reliable approach. If users are facing this issue due to damage, and it is recommended to switch to a third-party tool. Check out this link to backup your Outlook emails in Mac.